Drive Direct Bookings with Google Hotel Ads
04 April, 2022
Here's some exciting news for our partner hotels. As an authorized Google Hotel Ads Integration Partner, ResAvenue now enables you to display property information via Google Hotel Listings at no cost. You can now reach out to a larger universe of travelers actively searching for a hotel in the same location as your own property.
With Google Hotel Ads, you can showcase your property free of charge on the world's most popular search engine that processes millions of hotel searches per day.
As per this service, Google will place your hotel information in its organic search results section (shown under "All options") below the paid search results, also generated through Google Hotel Ads.
How it Works: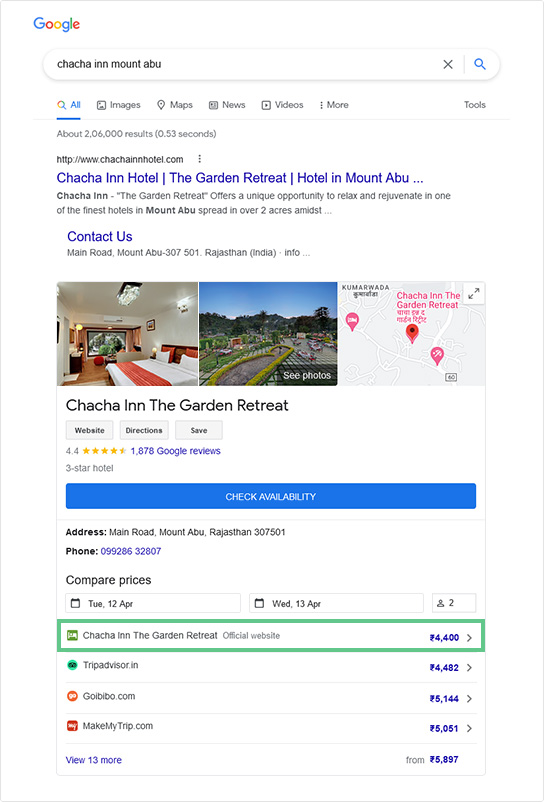 Hotel partners can now push rates and availability in real-time to Google to drive traffic and bookings to your website.
Prospective guests will be able to view your hotel name, name of the booking partner (OTA), your pricing, website link and such relevant details like your cancellation policy and restrictions.
Your guests can then make direct bookings from your hotel website via the link provided on Google.
Your hotel will be listed based purely on its utility for searchers.
Key Benefits of Google Hotel Ads Listing:
Displays Hotel's Available Room Rates
This listing option is the perfect way of promoting your hotel, increasing revenue, and boosting traffic to your website.
Reaches out to Guests across Google Platforms
Apart from the search engine, your hotel details will also appear on Google Maps and other popular Google Apps.
Compares Direct Booking with OTA Rates
It provides a real-time comparison of your rates on your hotel's official website with those on third-party (OTA) portals to help the prospective guest decide on his preferred booking platform.
Boosts your Direct Bookings and Limits OTA Commission
Connecting with more travelers through Google Hotel Ads enables hoteliers to increase their direct bookings and save on OTA commissions.
Upsells Other Services & Amenities:
Highlight your other services and amenities such as free Wi-Fi and breakfast, or showcase special offerings like New Year events.
Leverage Google Hotel Ads listings to enhance your online presence, maximize your hotel's earnings and stay ahead of the competition!

To sign up for Google Hotel Ads, please contact our Sales Team at contact@resavenue.com.