Easy Management of OTA Promotions through ResAvenue's Channel Connect
08 April, 2022
ResAvenue's channel management solution now enables its partner hotels to make their OTA channel based promotional offers available through a single platform for guest convenience and maximizing the hotel's business growth. Through ResAvenue's Channel Connect, a hotel property can seamlessly add or fetch promotional offers from an OTA channel by simply selecting a listing featured under the respective distribution channel.
Its 'Get Promotion' functionality offers a comprehensive view of all the existing promotions offered by various OTAs. At the same time, creating a new promotion on Channel Connect is also handy for users. You can easily avail the 'Add Promotion' feature on your dashboard for adding new promotions on OTA extranets in absolutely no time.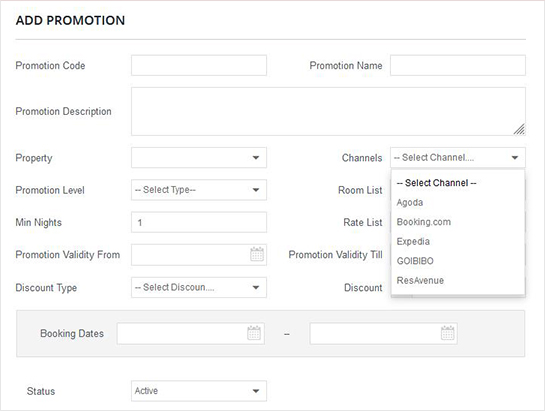 How do I Add a New Promotion?
Log on to Channel Connect
On the Dashboard, simply Click on Add Promotion
Select the desired OTA Channel
Enter other details and click on the Submit button
OTA Promotions through our channel management system serves hoteliers to:
Enhance reservations
Grow the visibility of offers and gain control over discounts
Generate and maximize revenue
Avail convenience in inventory distribution
Integrate with our Unified Channel Management System - Channel Connect, to manage OTA promotions and let your guests avail maximum benefits from bookings.