ResAvenue Launch Puts Internet Hotel Reservations on the fast track to growth.
November 8, 2003.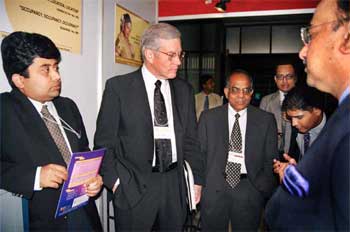 At the launch of Res Avenue at the FHRAI convention at the ITC Sonar Bangla, Kolkata.
From L to R: Mr. Vishwas Patel, CEO Avenues, Mr. Thomas Higgins CEO, Best Western International Inc., Mr. Anand Gupta- President & CEO, Best Western India, Mr. Nayan Patel Director-Best Western International Inc. and Mr. Vivek Nair Vice Chairman and MD, The Leela.
One of the sparkling highlights of the FHRAI Convention recently was the launch of ResAvenue, India's first multi-lingual Internet Reservation System with an in-built Multi-currency, Multi-payment Options Payment Gateway Solution. Launched in the presence of Mr. Thomas Higgins, President and CEO of Best Western International, Inc. the world's largest hotel chain, ResAvenue is expected to revolutionize the way hotel reservations are done in the future. Says Mr. Vishwas Patel, CEO, Avenues, the company that has launched ResAvenue, "ResAvenue is the next generation technology which allows customers to book a hotel room in 10 international languages. It also has a built-in multi-currency, multi-payment options payment gateway solution. This offers the hospitality industry unique features which are not available with any other booking engine. It enables hotels to accept reservation from anyone, anywhere, anytime, across multiple currencies thereby maximizing their revenue from the Internet."
Internationally, the share of room reservations made over the Internet has been on the rise and are expect to reach 20% in just four years. The rapid inroads made by the Internet into corporate India will greatly benefit the Indian hospitality industry. In such a situation, ResAvenue's entry is timed perfectly. With ResAvenue, a hotel can not only reach a customer and make a sales pitch to him on his desktop, he can also close the sale right there and collect payment instantly. All this at a fraction of what it would cost to do this by traditional methods.
By putting up a part of the hotel's inventory on the Internet and empowering it with the right tools, the hotel will have acquired the power of a new distribution channel that is not limited by geography, political boundaries or cultural and language barriers. It is like having a front desk operating 24 X 7 with the ability to close a reservation and get paid by any customer, anytime, anywhere in the world. In fact, even the hotel's offsite Branch offices and Agents can login to the centralized Reservation system and confirm to customers in their region instantly. A special feature is the facility where corporate customers can login and make room reservations at predetermined rates. Other benefits for the hotel are direct interaction with the customer, unbiased brand communication, opportunity to put in a robust CRM program, the ability to put up for immediate online sale any room, in any property, at any rate of its choosing virtually overnight. Only the Internet can allow the hotel to do this in a cost effective manner. With ResAvenue driving its Internet reservations, any small or medium sized hotel can compete with the larger hotel chains on par and do so in a cost effective manner. And that's good news for Indian hotels looking at competing globally.
At the launch of ResAvenue in Kolkatta at ITC Sonar Bangla. From L to R: Vishwas Patel, CEO - Avenues, Thomas Higgins, CEO - Best Western Intl. Inc., Mr. Anand Gupta - President & CEO, Best Western India, Mr. Nayan Patel, Director, Best Western Intl. Inc., Mr. Vivek Nair, Vice Chairman & MD, The Leela.



















Real Time Payment Processing


Single Window Interface Management


Extensive Distribution Network


Zero Setup Cost


Seamless GDS and IDS connectivity