Avenues and ING Vysya Bank Sign Agreement for Direct Debit Payment for online shopping
April 23, 2010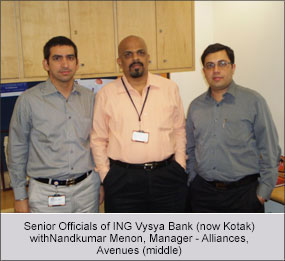 Avenues, South Asia's largest integrated ecommerce company, the parent company of CCAvenue, India's largest neutral online payment gateway and ING Vysya, a premier Indian bank are pleased to announce that they are entering into an agreement which enables ING Vysya Bank account holders to pay for online shopping through a direct debit to their bank account at thousands of Avenues merchant websites.
The growing popularity of the internet as a shopping and booking medium is the reason behind ING Vysya's net banking agreement with Avenue. The signing of this net banking agreement will have dual benefits. The first, ING Vysya account holders can now shop online at thousands of websites powered by Avenues solutions and pay online through a direct debit to their ING Vysya bank accounts. The second, it will help consolidate its position as an innovative bank in the minds of its account holders.
Avenues will also benefit from the signing of the net banking agreement with ING Vysya Bank as it can now offer its partnered merchants, hoteliers and event organizers yet another net banking payment option. Henceforth, all merchants, hoteliers and event holders will be able accept payment for their products and services directly through ING Vysya Bank account holders net banking accounts.
Mr. Vishwas Patel, CEO, Avenues, "Avenues believes in providing its merchants, hoteliers and event holders with innovative and comprehensive payment solutions. Hence, we are constantly in talks with banks and other financial institutions to add new payment options to our already extensive list. We are pleased that ING Vysya Bank is now a part of our direct debit engine; which is India's largest."
ING Vysya Bank Ltd.
In 1930, ING Vysya Bank Ltd. was established. Today, it is a premier bank in the Indian Private Sector. ING Vysya Bank Ltd., is an entity formed with the coming together of erstwhile, Vysya Bank Ltd, a premier bank in the Indian Private Sector and a global financial powerhouse, ING of Dutch origin, during Oct 2002. Since its birth, ING Vysya's mission has been to be a leading, global, client-focused, innovative and low-cost provider of financial services through the distribution channels of the client's preference.
ING Vysya gained recognition for adapting its integrated approach of banking, insurance and asset management. It also offers its customers various services - accounts and deposits, loans, wealth management, cards, payment services, small and medium enterprises, agricultural and rural banking. It also has Internet Banking, mi-b@nk and Customer Service Line for Phone Banking Service.
As of March 31st 2008, ING Vysya has 407 branches, 39 ECs, 28 Satellite Offices and 203 ATMs across the country. At international level bank has presence in countries such as Korea, Taiwan, Hungary, Poland, Mexico and Chile. Bank has opened life insurance companies in these countries.
About Avenues
Incorporated in the year 2001, Avenues is a zero-debt company that has been profitable from its inception. Avenues is headquartered in Mumbai, India and has subsidiary companies and offices in USA, Singapore and China. Avenues has developed several innovative, cutting-edge ASP hosted solutions that are used by thousands of eMerchants globally. Beginning as a single product company that catered to the local market, Avenues has become a multi-product company that operates on a global scale. The Avenues support and development center is based in Mumbai, India. The total strength of the Avenues team is currently 125 persons spanning across all offices. Avenues has three Business Units namely– Avenues Commercial Services, Avenues Travel Industry Services and Avenues Community Related Services. For more information, log onto:
www.Avenues.info
.