Earn More By Offering Value Added Services During Reservation

March 26, 2010 - Mumbai.

'Cross Selling' is a one of the most common marketing technique retail businesses profit on. It is a strategy of providing existing customers the opportunity to purchase additional items (often items that compliment the original purchase) offered by the seller. The benefit of cross selling is that you can capture a larger share of the market by fulfilling more of the customer's wants and needs.

For example, first time buyers of a Personal Computer not only purchase the PC itself, but also buy a table, a chair, covers and a mouse pad. Similarly, when parents buy a pair of skates for their child, they also purchase knee guards, gloves and helmets to ensure his safety. Even when buying a car, you can purchase a basic model with minimum features, a mid-way model with a few more features or a full loaded model with all possible features. All of these businesses benefit from cross selling products. Why should hotels be any different?

As an hotelier, you already know what 'other services' guests may be interested in – car rentals, spa treatments, tour packages etc. You can increase guest satisfaction and your earning per guest by offering them the option of pre-booking stay enhancements during the reservation process.

As a ResAvenue affiliated hotelier, offering stay enhancements is not a complicated or expensive process, wherein you need to invest money to hire programmers in order to reconfigure your reservation engine. The ResAvenue booking engine already has a stay enhancement feature, which you simply need to configure to suit your requirements.


Log into your ResAvenue M.A.R.S. account and click on the Property Configuration option located in the Configuration dropdown on the navigation bar.


Select 'Stay Enhancements' and click on the view selected button. This will open up the 'Stay Enhancement' configuration page.

On this page, you can view all existing stay enhancements. You can also add and configure new enhancements, by clicking on the 'Add Enrichment Group' button on the bottom of the page.
The corresponding page will open, where you can create a new enrichment group. An enrichment group refers to the service being offered such as Car Rentals, Spa Treatments etc. It is made up of multiple sub-categories.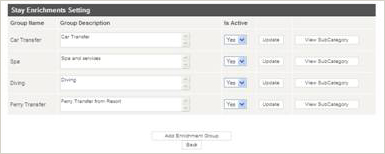 For example, if you offer guests the option of renting cars at the time of reservation, then Car Rentals become an Enrichment Group while the types of cars available – Jeep, Van, SUV etc. become sub-categories within this group. You can also create sub-categories based on AC or Non-AC. Within these categories, you can offer destination-based options such as to airport, from airport, site-seeing etc.


What else?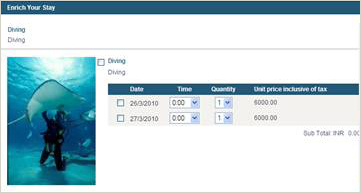 Every time you create a sub-category, you have the option of making the category time sensitive i.e. you can set a fixed period for this option to display. For example, if you want to offer a Diving Package only during the summer months, you can set this option to appear only for guests booking from March to April. Once this period has passed, the option will stop displaying on your reservation engine.
You also have the option of making a category mandatory, wherein, guests will not be able to proceed further until they select the enhancement. For example, if you are located on an island and guests have to take a ferry to reach your hotel. In such a scenario, you can make it compulsory for guests to book ferry tickets to and from the island at the time of reservation.
Once you have finished configuring the enrichment group or sub-category, click on the Update Button to update your reservation engine.
To summarize, the stay enhancement feature enables you to offer your guests value added services at the time of reservation. This not only increases the guest's satisfaction but also increase your venues for revenue. So, what are you waiting for? Add value added services to your reservation engine and begin boosting your revenue by cross selling.



















Real Time Payment Processing


Single Window Interface Management


Extensive Distribution Network


Zero Setup Cost


Seamless GDS and IDS connectivity