Central Bank of India & ResAvenue.com announces tie-up for direct debit facility
6th March 2012 - Mumbai, India
ResAvenue.com, India's largest online reservation and payment Gateway solution for the hospitality industry has expanded its netbanking facility and tied up with Central Bank of India thus adding to its reach across all major banks. ResAvenue.com has always aimed at providing its customers the best and the maximum number of payment options.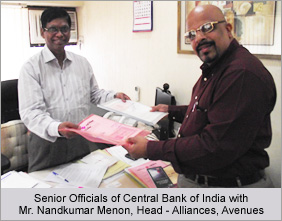 Now, Central Bank of India account holders can make reservations online on thousands of hotel websites powered by ResAvenue.com and pay online through a direct debit to their Central Bank of India account.
Among the Public Sector Banks, Central Bank of India can be truly described as an All India Bank, due to distribution of its large network in 27 out of 29 States as also in 3 out of 7 Union Territories in India. Central Bank of India holds a very prominent place among the Public Sector Banks on account of its network of 3967 branches and 27 extension counters at various centres throughout the length and breadth of the country.
Further in line with the guidelines from Reserve Bank of India as also the Government of India, Central Bank has been playing an increasingly active role in promoting the key thrust areas of agriculture, small scale industries as also medium and large industries. The Bank also introduced a number of Self Employment Schemes to promote employment among the educated youth.
ResAvenue.com customers also benefit from the signing of this direct debit agreement. The agreement with The Central Bank of India will expand ResAvenue.com customers' reach to include all the Central Bank of India account holders and thus reach out to a much larger number of customers. Through this direct banking agreement, ResAvenue.com reinforces its place as India's largest direct debit engine with 40 (and counting) prominent Indian banks.
About Central Bank of India
Established in 1911, Central Bank of India was the first Indian commercial bank which was wholly owned and managed by Indians. The establishment of the Bank was the ultimate realisation of the dream of Sir Sorabji Pochkhanawala, founder of the Bank. Sir Pherozesha Mehta was the first Chairman of a truly 'Swadeshi Bank'. In fact, such was the extent of pride felt by Sir Sorabji Pochkhanawala that he proclaimed Central Bank of India as the 'property of the nation and the country's asset'. He also added that 'Central Bank of India lives on people's faith and regards itself as the people's own bank'.
A number of innovative and unique banking activities have been launched by Central Bank of India. Some of its pioneering services are as under:
| | |
| --- | --- |
| 1921 | Introduction to the Home Savings Safe Deposit Scheme to build saving/thrift habits in all sections of the society. |
| 1924 | An Exclusive Ladies Department to cater to the Bank's women clientele. |
| 1926 | Safe Deposit Locker facility and Rupee Travellers' Cheques. |
| 1929 | Setting up of the Executor and Trustee Department. |
| 1932 | Deposit Insurance Benefit Scheme. |
| 1962 | Recurring Deposit Scheme. |
| 1976 | The Merchant Banking Cell was established. |
| 1980 | Centralcard, the credit card of the Bank was introduced. |
| 1986 | 'Platinum Jubilee Money Back Deposit Scheme' was launched. |
| 1989 | The housing subsidiary Cent Bank Home Finance Ltd. was started with its headquarters at Bhopal in Madhya Pradesh. |
| 1994 | Quick Cheque Collection Service (QCC) & Express Service was set up to enable speedy collection of outstation cheques. |
About Avenues:
Incorporated in the year 2001, Avenues is a zero-debt company that has been profitable from its inception. Avenues is headquartered in Mumbai, India and has subsidiary companies and offices in USA, Singapore and China. Avenues has developed several innovative, cutting-edge ASP hosted solutions that are used by thousands of eMerchants globally.
Beginning as a single product company that catered to the local market, Avenues has become a multi-product company that operates on a global scale. The Avenues support and development center is based in Mumbai, India. The total strength of the Avenues team is currently 125 persons spanning across all offices.
Avenues has three Business Units namely - Avenues Commercial Services, Avenues Travel Industry Services and Avenues Community Related Services. For more information, log onto:
www.Avenues.info
.