Eleven Gurus on trend of 2006. This Will Shape 2007 - Information Technology
January 9, 2007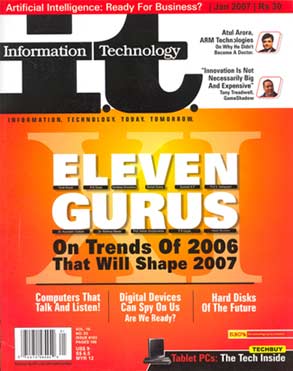 E-commerce has woken from its slumber. The e-commerce market size is reported to be moving from Rs 5000 crores to Rs 9500 crores in 2007 (Source: Internet and Mobile Association ofIndia), largely powered by the travel sector. The share of airline bookings, hotel bookings and travel related purchases is said to account for 60-70 per cent. But non-travel related business has yet to make its presence felt.
There are three reasons for this - online customers do not see significant value addition in their online deals; most brick-and-mortar merchants have not woken up to the potential of the Internet; and finally, there is an acute shortage of trained software technicians, making it practically impossible for small business enterprises to compete with their larger counterparts in the e-commerce sector.
However, this situation has given rise to a new breed of online B2B entrepreneurs - the ASPs (Application Service Providers) who use the Internet to deliver 'software on demand."
The ASP develops an industry­specific e-commerce application and offers it as a paid service to multiple vendors in an industry segment. The cost of developing the solution gets amortised across multiple client companies' and each client company simply pays a low entry-barrier price to the ASP.
This offers immense advantages to small and medium Internet enterprises, especially start-up companies.
ASP solutions can be delivered virtually anywhere and greatly accelerat the pace of business while reducing errors and costs. If the high adoption rate of the ASP solutions model continues, this could be the year when the non-travel related sector of the Indian e-commerce industry comes into its own.